At the end of last week the temperature dropped again and was in the low 20's.  Yesterday however it was +8 degrees.  This really is a very strange winter!!
Now I have all the parts to my Thermarest cot, I wanted to sleep out and test it.
I also bought an unused second-hand Thermarest NeoAir Xlite from Sweden's equivalent to Ebay to use in conjunction with the cot.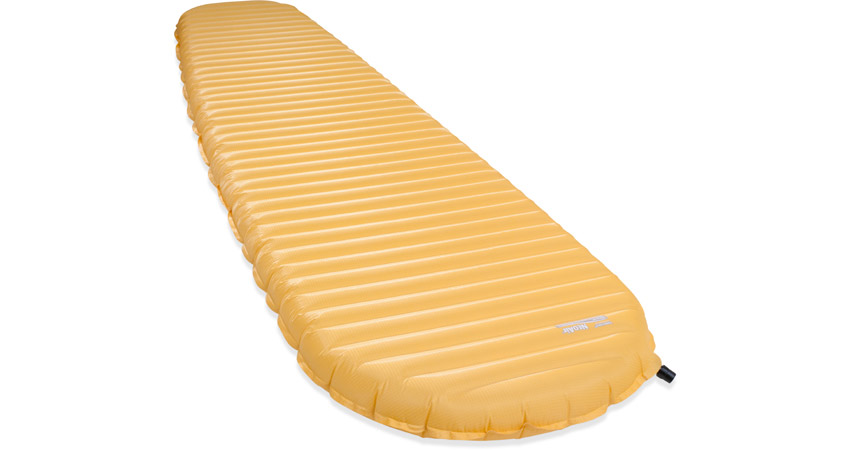 The NeoAir XLite mattress delivers more warmth and comfort per ounce than any other three-season air mattress available. Our patent-pending technologies deliver that performance with minimal weight and less bulk than a one-liter water bottle. Softer fabrics bring better next-to-skin comfort and a boost in durability, all with no added weight. For the discerning alpinist, thru-hiker or backcountry minimalist who's counting every ounce, there is simply no better choice to assure the kind of rest you need to enjoy tomorrow. Stuff sack and repair kit included.
Ultralight: Advanced fabrics and a tapered design make this the lightest 3-season backpacking air mattresses available, with no peer in its warmth-to-weight ratio.
Warm: Patent-pending, reflective

NeoAir™ Mattresses
In this patent-pending application, we vary the location and number of ThermaCapture layers within each NeoAir mattress to meet specific warmth targets. Combined with Triangular Core Matrix construction, a single ThermaCapture™ layer can boost warmth by up to 50% and creates the unmatched warmth-to-weight ratios offered by a NeoAir™ mattress.
" data-original-title="ThermaCapture™">ThermaCapture™ technology traps radiant heat while
Triangular Core Matrix™
Our most advanced design uses patent-pending technology to minimize heat loss with two stacked layers of triangular baffles, creating hundreds of individual cells in our warmest mattresses. Simultaneously this internal structure adds an unmatched level of stability to every NeoAir mattress.
" data-original-title="Triangular Core Matrix™">Triangular Core Matrix™ construction minimizes convective heat loss–all without the bulk, weight or durability issues of down and synthetic fills.
Comfortable: 2.5" (6 cm)-thickness, soft-touch fabrics and baffled internal structure provide unrivaled stability and support.
Ultra-Packable: Low-bulk materials make the XLite mattress the most compact NeoAir mattress ever – as packable as a water bottle.
I am very impressed with the NeoAir Xlite as it packs down small, is incredibly light, but is also thick and comfortable.  It is however quite noisy (especially when it is really cold).
I dug a "snow grave" to sleep out in, but the temperature dropped to -22C and my down bag is only good at around -12C, so I decided to put a reindeer skin roof on to help hold some heat
The grave was just large enough for the cot.
I also used a Gortex bivi bag, which was a big mistake because as vapour exchange properties of Gortex does not work below -15, a thick layer of ice formed on the inside of the bivi bag and on the outside of my down bag.
The cot and sleep mat worked really well and I was not cold on my underside at all, but the upper part of my body was really cold!!
The day light is getting longer now and there have been some beautiful sunrises and sunsets during the last few days, but unfortunately this has been the only one I have been able to capture.